The Grand Lake Sportsmen's Club was chartered in 1965 by a group of people from around Grand Lake in Northeast Michigan and the area. This was a group of people that came together and decided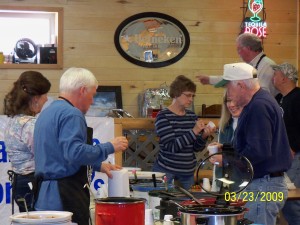 that an organization was needed to create a better fishery in Grand Lake by working with the Michigan Department of Natural Resources and building and placing artificial fish habitat.
They originally built 25 fish shelters, with cedar logs, rocks and brush. Since that time many more have been placed. As time went by they started a summer and winter free fishing derby. They also saw a need for cleaning up discarded debris from along the shoulders of the roads,  so they joined the State and county Adopt-A-Highway program.
Since the beginning the Club has taken on many other projects and will continue doing so as long as there is a need.